At one of the first Asia Pro Bono Conferences that I attended I was intrigued to see corporate law firms working closely with not for profit and legal aid service providers. This set up was largely amiss in Pakistan and hence I sought to approach commercial and corporate law firms in Karachi , Pakistan with a view to engaging them in helping us maximise and scale our reach towards those who were in need of lo bono and pro bono services. I was able to engage 5 law firms who then entered into MOUs with the Legal Aid Society and became part of our panel of pro bono lawyers for both civil and criminal law matters. We were able to align our requirements and resources in a mutually beneficial way guaranteeing lawyers in law firms with varied experience i.e. the opportunity to engage and experience direct social impact and we benefitted from being able to appear in higher courts of law with the assistance of bigger law firms. As a result we have also managed to file 5 public interest law suits for improving juvenile justice and the rights of senior citizens in Pakistan.
The APBC and A2 Exchange provided stimulus for engaging in multi sectoral partnerships and also inspired some of the work we are able to do now for achieving greater communal impact and deeper social impact that is sustainable. The partnerships and connections made with organisations across different countries; working on different thematic streams has helped in increasing capacity and improving the strategic direction of the organization that I am engaged with.
"My organization, GongGam Human Rights Law Foundation, the first non-profit full-time human rights lawyers' group in South Korea,
proposed and designed the establishment of the law firm pro bono director's forum, the foreign law firm pro bono clearinghouse, the Seoul Bar Pro Bono Assistance Center and the Korean Bar Pro Bono Assistance Center,
and organized a number of symposiums and training sessions on international human rights standards and their implementation in the judiciary (the photo), the legislature and the executive in collaboration with NGO networks, academic societies, the National Human Rights Commission, the Korean Bar Association and the Ministry of Justice.
For me, the APBC & A2J Exchange started with reunion with old friends but right away opened a new world of exchange of and exposure to various and numerous experiences, knowledge and insights related to pro bono and social justice work. You cannot tell which comes first but most of our pro bono (clearinghouse) work was heavily affected by the APBC & A2J Exchange, and we have also been always more than happy to share what we are doing or not doing. AND the APBC & A2J Exchange always gave me chance to DANCE giving me the power to overcome all the difficulties :-)"
Because of the CLE program brings me to engage with the pro bono and access to justice. Being a CLE volunteer gave me a lot of opportunities to explore the way that we could work pro bono as well as strengthen the access to the justice system, especially in Laos. When I look back at the first pro bono conference in Laos in 2012, I could see how far I walked through this pathway and being one of the people who work to support this kind of work.

APBC&A2JX give me a chance to exchange experiences and lessons learned from others around the world as the conference brings different kinds of people, backgrounds and institutions, which is rich of useful and helpful lessons that you can learn from others and adapt this kind of work to your own work and system. Even though we are from different legal systems, the goal of pro bono is to help people on access to justice and treat people equally. This is the most important point which you can learn and share at this conference.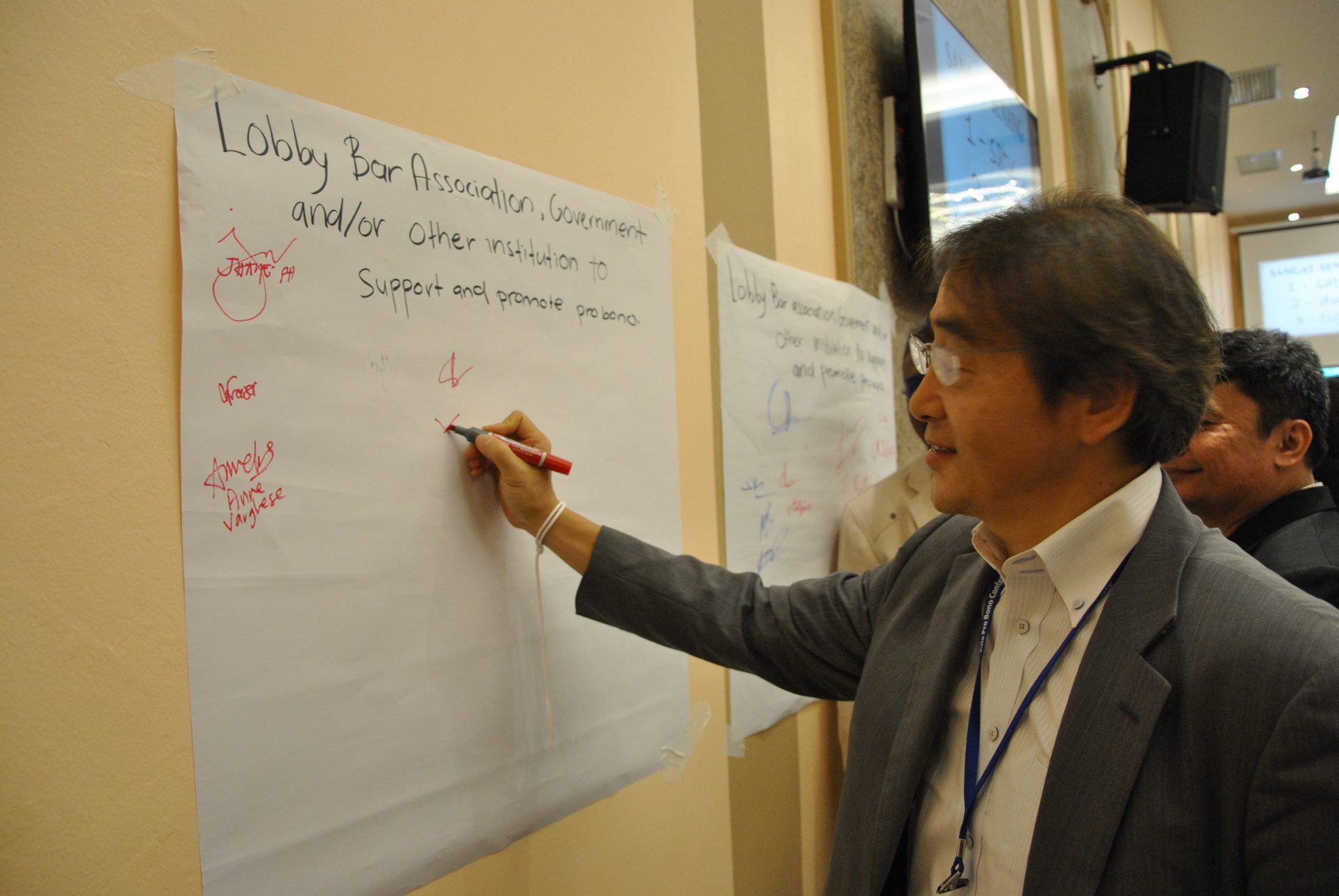 I was involved in organising and participating in several conferences of APBC by accompanying a number of the Japanese students and lawyers. In particular, I organised Asian Network on Refugees and International Protection (ANRIP) as multi-stakeholder network for protection of refugees, asylum seekers and forced migrants by hosting conferences in Tokyo, Seoul, Manila, HK, Kuala Lumpur and Kathmandu.

The APBC & A2 Exchange has assisted in these events by co-hosting the ANRIP meetings in HK, KL and Kathmandu for networking for expanding our partners.