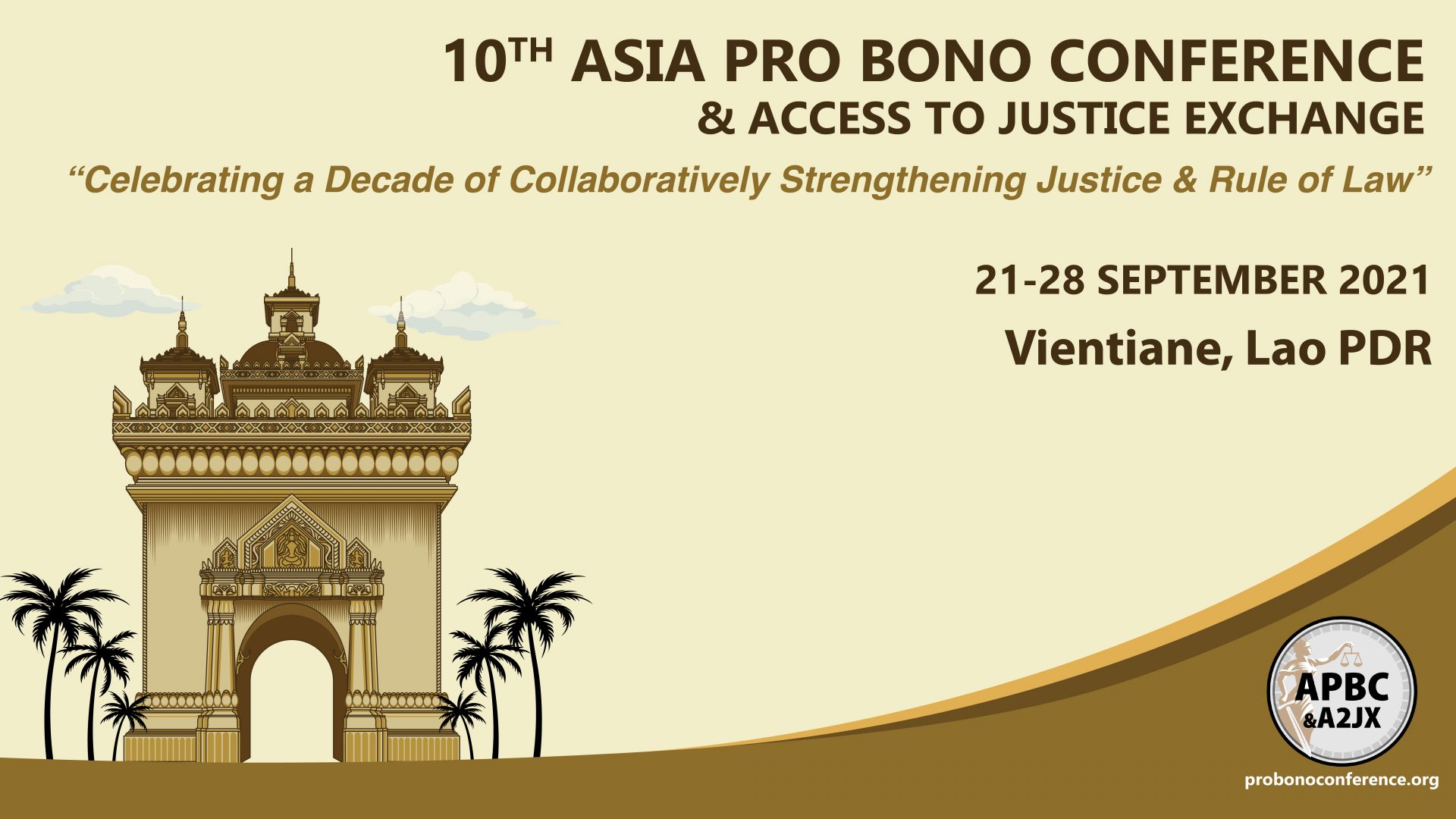 10th Asia Pro Bono Conference & Access to Justice Exchange
"Celebrating a Decade of Collaboratively Strengthening Justice & Rule of Law".

The 10th Asia Pro Bono Conference and Access to Justice Exchange are being held in Vientiane, Laos (21st – 28th September 2021) and virtually organized by a network consortium from throughout Asia and globally, are the largest annual gathering of persons supporting and engaged in access to justice, strengthening Rule of Law, pro bono and public interest law in Asia.
The APBC&A2JX has been held in Vientiane, Laos (2012); HCMC, Vietnam (2013); Singapore (2014); Mandalay, Myanmar (2015); Bali, Indonesia (2016); Kuala Lumpur, Malaysia (2017); Hong Kong, China (2018); Kathmandu, Nepal (2019); Virtual conference (2020).
The 10th APBC&A2JX will be an opportunity to share experiences, advocacies, and ideas not only among Asians but to learn as well from experts, practitioners, and policymakers from other regions of the world.
Join us to celebrate and emphasize pro bono legal work, access to justice and legal empowerment initiatives, as well as discuss ways to further the outreach of pro bono ethos and impact in Asia and around the Globe.
Each year's Conference & Exchange is organised by volunteers, NGOs and others with the support of our sponsors and a range of organisations around the Asia region.
Each year, the Asia Pro Bono Conference and Access to Justice Exchange is run on a revenue-neutral basis meaning we minimise the registration fees as much as possible and use any surplus to subsidise the attendance of regional pro bono champions, who could not otherwise afford to attend. You can help directly.  Learn more about how to become a partner through sponsorship.
The  Asia Pro Bono Conference & Access to Justice Exchange is an initiative founded in 2012.
The event celebrates and emphasizes pro bono legal work and legal ethics, discussing ways to further the outreach of the pro bono ethos and impact throughout Asia and around the globe.  Continue reading 
Laos
Laos has so much to offer from natural wonders, majestic rivers, springs, waterfalls mountains, caves, and forests. A country with a great collection of cultural places and nature, worth visiting once in a lifetime. 
From the rolling mountains of the north to the river islands of the south, ours is a land of untouched wonder and rare beauty. Rich in history, traditions, diverse landscapes and cultures, Laos is sure to captivate your inner explorer
Learn more about travelling in Laos
Vientiane
Vientiane Capital is the home to the most significant national monument in Laos: That Luang (Great Stupa), which is the symbol of Lao and an icon of Buddhism in Laos.
In the old part of Vientiane city, an attractive and interesting settlement is situated along the Mekong River where the ancient temples, museums, monuments, and parks are all located just a short distance apart.
The cosmopolitan capital of Laos, Vientiane, has galleries, boutiques, theatres, nightclubs, and internet cafes, making it a major attraction for visitors from all around the globe. Although the city is small, it offers visitors a great variety of restaurants serving both Lao and foreign cuisine. When you get hungry try the nation's signature dish, tam mak-hung (spicy green papaya salad),  laap (spicy minced meat salad), and ping kai (fried chicken). Quench your thirst with a refreshing Beer Lao or fresh fruit shake from one of the many small restaurants found along almost every street in town. At dusk, find a spot along the Mekong promenade to enjoy an amazing view of the sunset over the river.
Learn more about Vientiane
Registration will open soon
Since 2012, the Asia Pro Bono Conference & Access to Justice Exchage has brought together various legal service providers, including academics, law students, lawyers, pro bono professionals, policy makers, civil society and non-profit representatives, from all over the world.
The Conference & Exchange's primary aim is to create and promote dialogue on the various ways pro bono initiatives can strengthen access to justice in Asia and internationally. The Conference & Exchange is an exciting mix of keynote speeches, panel discussions, poster presentations and interactive workshop sessions.