The Asia Pro Bono Consortium is pleased to announce
that registration will open in December 2017 for the: 

7th Asia Pro Bono Conference
in Hong Kong
October 2018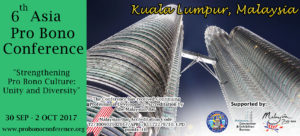 The Conference has received Continuing Professional Development Accreditation by the Malaysian Bar.
Malaysian Bar Accreditation Code: T2/300902102017/APBC/KL172279/10; CPD points: 10.
The theme of the Conference will be
"Strengthening the Pro Bono Culture: Unity and Diversity"
Supporting the Asia Pro Bono Movement
All registration fees are put to great use to support the Asia Pro Bono movement. Each year, the Asia Pro Bono Conference is run on a revenue-neutral basis meaning we use any surplus to subsidise the attendance of regional "Pro Bono Champions" who could not otherwise afford to attend.
Registration Fees (not including the Conference Dinner):
Early Bird $395 USD (Available until April 30th)
Normal $500 USD (Available until September 1st)
Late $600 USD (Available until September 29th)
Onsite registration $675 (Available September 30th)
More details will be posted onto this site over the next few months or please contact us at [email protected]
Be a Part of the Asia Pro Bono Movement
Join the 2017 Conference in Malaysia
The  Asia Pro Bono Conference is an initiative founded in 2012.
The event celebrates and emphasizes pro bono legal work and legal ethics, discussing ways to further the outreach of the pro bono ethos and impact throughout Asia and around the globe.  Continue reading