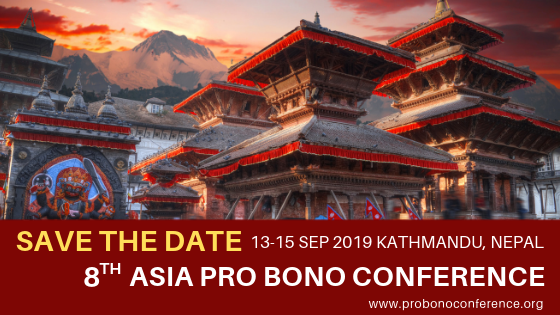 The 8th Asia Pro Bono Conference is being held in Nepal.
Join us in in Kathmandu Nepal from Friday 13 September to Sunday 15 September 2019.
More details coming soon.
Join us to celebrate and emphasize pro bono legal work, access to justice and legal empowerment initiatives, as well as discuss ways to further the outreach of pro bono ethos and impact in Asia and around the Globe.
For updates, please follow us on Facebook, Twitter and/or LinkedIn.
Early registration will be announced in late February 2019.
Who Should Attend
NGOs and others involved in pro bono and access to justice initiatives
Lawyers and legal practitioners
Law professors and law students
The Judiciary
Government officials
This year's Conference is organised by unpaid volunteers with the support of our sponsors and a range of organisations around the Asia region.
Each year, the Asia Pro Bono Conference is run on a revenue-neutral basis meaning we minimise the registration fees as much as possible and use any surplus to subsidise the attendance of regional pro bono champions, who could not otherwise afford to attend. You can help directly.  Learn more about how to become a partner through sponsorship.
The  Asia Pro Bono Conference is an initiative founded in 2012.
The event celebrates and emphasizes pro bono legal work and legal ethics, discussing ways to further the outreach of the pro bono ethos and impact throughout Asia and around the globe.  Continue reading 
The 2018 Conference was organised by the Conference Local Organizing Committee ("CLOC"), comprising of the five working committees and specialist panels.
Members of CLOC included: Davyd Wong (Finance), Andrew Dale (Finance), Annette Bain (Program), Richard Yip (Program), Penny Barsha (Cultural & Social), Felix Yuen (Delegates & Students), Angie Liu (Delegates & Students), Annie Tang (Communication & Public Affairs), Sandy Yeung (Special Projects), Kelvin Tang (Special Projects), and Spencer Wong (Communication & Public Affairs – Retired from CLOC March 2018).
The full list of volunteers, who have generously donated their time and passion to this important cause, is listed here.
As all participants are volunteers, the CLOC engaged the assistance of a professional conference organiser, Innoxcell, to help with the event administration and logistics.
Faces of the Asia Pro Bono Movement