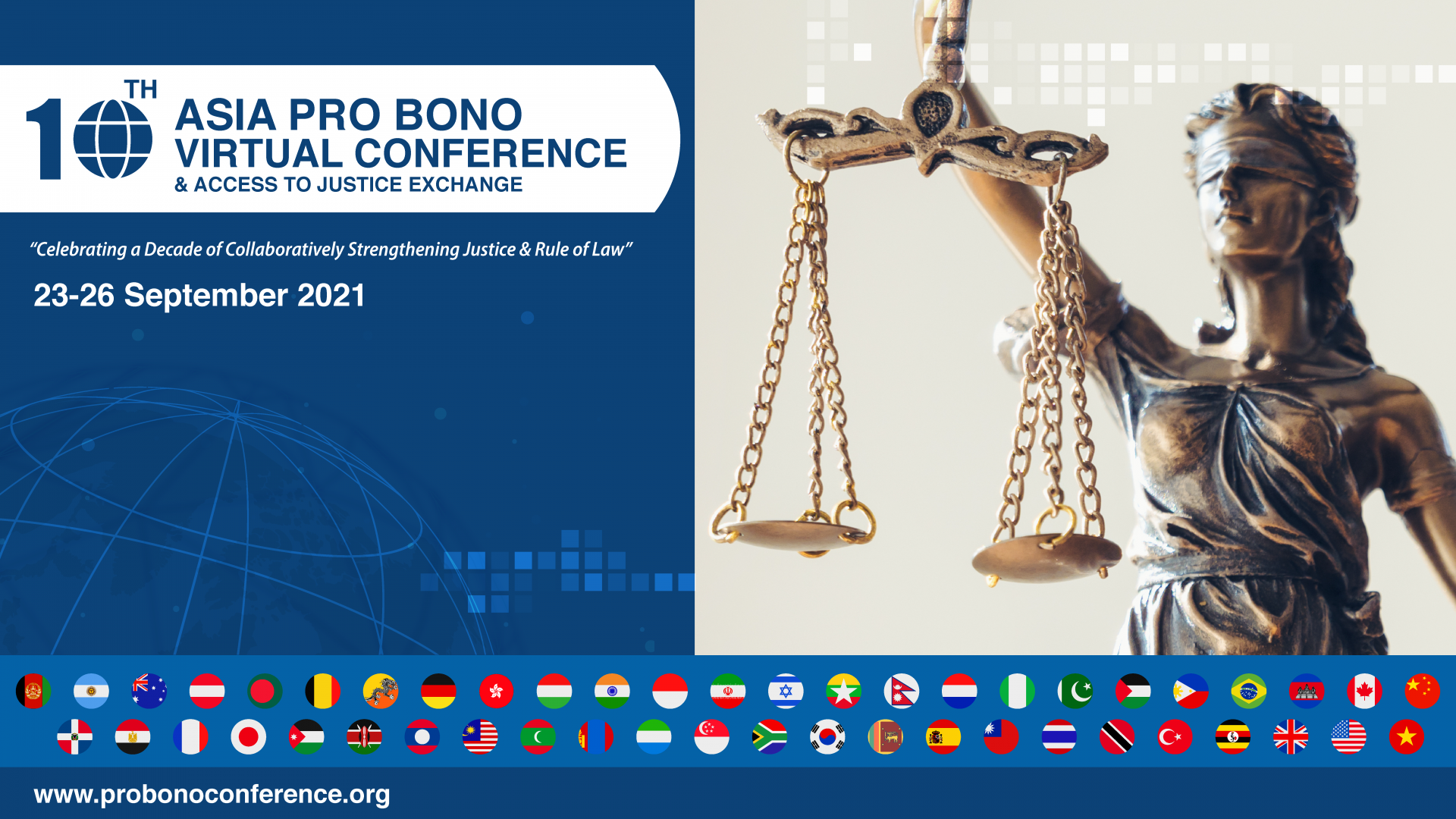 Greetings from the entire 10th Asia Pro Bono Virtual Conference and Access to Justice Exchange Secretariat.  We hope ALL of you are well after an amazing 10 APBVC &A2JX (2021) online gathering.
While it has been less than one week since the final days of the APBVC & A2JX, we think it is very fair to say that so much was achieved, and the events really exceeded all expectations (as they do every year). It is also fair to say that without your support this event would not have come close to being the success it was.
The participants came together from throughout Asia and the globe, to help ensure greater access to justice and strengthen and expand pro bono initiatives. When we factor in ALL of the APBVC&A2JX we had close to 700 participants and volunteers, from more than 40 countries, and 33 sessions. While the core language of the Conference/Exchange was English, most of the sessions had simultaneous interpretation of up to 7 different languages, allowing an at-scale greater participation of participants without language being a barrier.
With the live streaming of sessions globally, the event, to date has reached more than 405,000 persons.  This is simply incredible.  The theme of the Conference was Celebrating a Decade of Collaboratively Strengthening Justice & Rule of Law and these numbers are some of the clearest examples of what positive things can happen in a Decade of Collaboration. 
The positive feedback we have been receiving has been incredibly heartwarming, and so appreciated.  Each year the APBC & A2JX (and now APBVC) has achieved so much impact, and this year with all of you participating in the way you did, things were taken to an even higher level.
All of this was done in such a professional manner, while NEVER losing the Conference/Exchange values, of warmth, closeness, and of course fund, that makes the APB(V)C & A2J so different than many other events.  As happens almost every year, participants have been telling us how "this Conference/Exchange is so different", how glad they were to be a part of it, and how this Conference/Exchange truly demonstrates effective ways and means to bring diverse communities together.
During, and immediately after our gathering, plans are being made for many local, national, and regional follow-ups, with clear objectives and ideas being put forward.
This has also included the fantastic group from the Lao PDR, who attended the APBVC & A2J Exchange, and immediately after the closing of the APBVC &A2JX (on Day 4) began discussing the core planning of the 11APBC & A2JX, which will be in Vientiane, Lao PDR, in September 2022 (dates to be confirmed soon).
We wanted to let you know that the formal photographs for the 10APBVC & A2JX should be up on the website this week, and we are hopeful to have a more finalized list of the registered participants soon. (we are still chasing down some email addresses of the participants who registered late).  The APBVC & A2JX Facebook page includes most of the sessions with were LiveStreamed, and you can access these sessions there.    The Conference/Exchange website should also soon have most of the sessions available to be downloaded, along with materials used in the sessions.
For now, we want to send a HUGE thank you again and again to each of you, and all of us as a whole.  Together, we really are an unstoppable, positive force.  We have truly demonstrated that "from little things big things grow" and "if you want to go fast, go alone. If you want to go far, go together". Let's keep growing this Pro Bono and Access to Justice Movement together and going further and further.
See you all next year in Vientiane, Laos, and in-between please attend and participate in the Asia Regional Quarterly Pro Bono Roundtables.
Thank you again for all that you do and remember to Keep Calm and Do Pro Bono,
The 10APBVC &A2JX Secretariat
Each year's Conference & Exchange is organised by volunteers, NGOs and others with the support of our sponsors and a range of organisations around the Asia region.
Each year, the Asia Pro Bono Conference and Access to Justice Exchange is run on a revenue-neutral basis meaning we minimise the registration fees as much as possible and use any surplus to subsidise the attendance of regional pro bono champions, who could not otherwise afford to attend. You can help directly.  Learn more about how to become a partner through sponsorship.
The  Asia Pro Bono Conference & Access to Justice Exchange is an initiative founded in 2012.
The event celebrates and emphasizes pro bono legal work and legal ethics, discussing ways to further the outreach of the pro bono ethos and impact throughout Asia and around the globe.  Continue reading