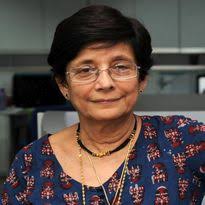 Maja Daruwala
Tata Trusts & Commonwealth Human Rights Initiative
Senior Advisor
 Maja Daruwala, a barrister by training, has been working to advocate for rights and social justice for over thirty-five years. She was Director of the Commonwealth Human Rights Initiative (CHRI), an international non-governmental organisation headquartered in New Delhi with offices in London, UK and Accra, Ghana, for 20 years until September 2016.  During her time at CHRI, she built the organization into a strong advocate for access to justice, specializing in police and prison reform and the public right to access information. Maja Daruwala is currently Senior Advisor at CHRI, particularly focusing on the Access to Justice Programme. She is also a consultant to Tata Trusts and is presently anchoring its soon to be released India Justice Report 2019.
Maja is actively engaged in numerous human rights initiatives, and concentrates on issues relating to civil liberties including police reform, prison reform, right to information, legal empowerment, non-discrimination, women's rights, freedom of expression, and human rights advocacy capacity building. Maja's interests lie particularly in the area of systemic reforms. She works tirelessly to demystify human rights, and simplify technical issues of law and policy, for a variety of audiences. She focuses on mechanisms to reduce the distance between the standard and the practice. As Director of CHRI, she has conceptualized and edited biennial reports targeted at the Commonwealth Heads of Government on poverty, the right to information, and police accountability. She continues to produce a body of journalistic work, including a television documentary on prisoners, and rights and governance issues in the region.
Maja has lived and worked in India, England, Singapore and Sri Lanka. She has till very recently sat  on several charitable boards including the Open Society Justice Initiative, (Soros Foundation),  International Women's Health Coalition (IWHC), Oxfam GB, NAMATI and the International Record Management Trust (IRMT).She has chaired People's Watch which she helped found and presently sits on the boards of the Population Foundation of India, Delhi, The Media Foundation, and the Centre for Social Justice. She has recently been appointed Prison Monitor by the National Human Rights Commission of India. She is a recipient of the Nani Palkiwala Award for protection and preservation of civil liberties in India. Maja believes the only way to be optimistic about the future is to work hard at creating it!